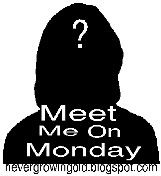 I am linking up to Java at
Never Growing Old
for this weeks Meet me on Monday! Hop on over and join in on the fun! :)
1. What is your favorite kind of potato chip?
My favorite potato chip is Ruffles Cheddar and Sour Cream! YUMMY!!!
2. Do you make your bed everyday?
Yes! I do not leave the house unless my bed is made.
3. How often do you go to the hair salon?
Every 6-7 weeks usually!
4. What do you dip your French fries in?
Most of the time I just eat them plain, but if I do dip them it is in Ranch.
5 Do you shop with coupons?
Sometimes...I cut coupons but most of the time I don't end up using them.