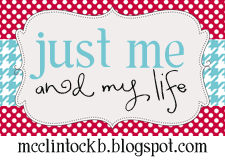 FRIDAY FIVES:
This weeks Friday Five is Random Questions!
The Questions are...
1.Something you are OCD about?
I have alot of things I am OCD about, but one of the main things is my bed being made. I can't leave the house without all of the beds in the house being made!
2. Your favorite quote?
This is a Bible verse, not a quote, but it is my favorite:
"Be still and know that I am God." Psalms 46:10
3.What is the farthest you have been from home?
Germany....we lived there for 2 years when I was younger.
4.Do you do a real or fake Christmas tree?
Fake...I don't want the mess of a real tree.
5.First Blog you ever read?
Thrifty Decor Chick
was the first blog I ever read! She is still my all time favorite blogger! She is AWESOME!!!
Link up to Just me and my life and join in on the fun!!!